Velkommen – Welcome – Wilkommen
BelZoe is located in the scenic Lindum, close to Lindum Forest and Tjele Langsø. It is this nature that forms the framework for BelZoe Bed'n Breakfast.
We offer various accommodation options and it is possible to rent cabins, rooms in The Grocery Store, on the 1st floor, in The Wash House, or an entire apartment. Some rooms have comfortable seating areas. Guests can relax with a cup of tea or coffee on their own terrace or patio. There is access to shared bathrooms, free Wi-Fi and a flat-screen TV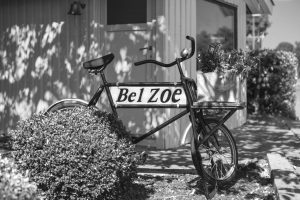 In addition, there is a 24-hour reception on the property – However, from 10 PM only by appointment.
Check-in is after 2 PM.
Check-out is before 11 AM.
Bike rental is offered and we have many scenic routes in the immediate area.
BelZoe is centrally located with only 15 km to Hobro, 24 km to Viborg. Randers is 25 km from BelZoe, while 39 km to Skive and 60 km to the nearest airport, Aalborg Airport. There are therefore many opportunities for whole or half day trips to attractions.
The E45 motorway (exit 36) is 8 km away. The bus to Hobro and Viborg runs just past the Bed'n Breakfast.