Welcome to BelZoe – in the heart of Jutland
BelZoe is located i the beautiful area of Lindum, close to Lindum Forrest and the lake Tjele Langsø. It is the beautiful nature surrounding Lindum which forms the framework for BelZoe Bed'n Breakfast.
We offer different accommodation and there is the possibility to rent both cottages, rooms in the Old grocery store and on the 1st floor, or an entire apartment. Some rooms have comfortable seating areas. Guests can relax with a cup of tea or coffee on their own terrace or patio. There is access to a shared bathroom, free Wi-Fi and a flat-screen TV.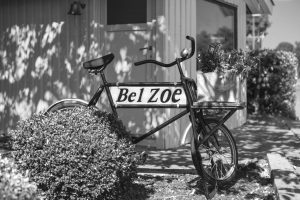 In addition, there is a 24-hour reception on site – though by appointment if after 22:00.
Bike rental is available and we have many scenic routes in the area.
BelZoe is centrally located with only 15 km to Hobro, 24 km to Viborg. Randers is 25 km from BelZoe, while Skive is 39 km away and 60 km to the nearest airport, Aalborg Airport. There are therefore many possibilities for weekend and half-day trips to well-known attractions.
The E45 motorway is 8 km away (exit 36). The bus to Hobro and Viborg runs just outside our door.
5 km from Lindum – lies the inn – Pigernes Kro,  in the village Onsild.
Here there is dancing every Saturday evening with live music.